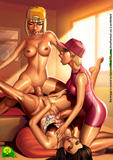 Categories:
Magazines / Comics
Format:
JPG
Pics total:
5
Size:
1 mb
These are pictures featuring recent comics - The Winner's Reward, The Threesome Chillin', The Physical Training... and also my old picture, that I've forgot to post here ;)
Hotlink
http://soon/URIJBkU1X/30.zip
Rapidgator
http://rg.to/file/f1e9be939bee3226761b9c6da8310fa9/30.zip.html
Most Viewed
Just what is Amanda selling here? To make a few extra dollars, Amanda sells cosmetics and lingerie. When she got the name of Miss Marie Graft, a very rich older lady that lives in the penthouse in the hotel, she could not pass up this customer. Amanda soon finds out that this lady has no interest in the product but is very interested in the salesgirl! After a wild sex romp, Marie Graft will be a regular customer from now on but Amanda gets to leave the products at home!
Christine and Priya have to study. Christine is looking thru Priya's Wolford pantyhose collection and Priya knows that means no studying will get done. It an attempt to get some work done Priya makes Christine go to the library. It is too late. Wearing the exquisite designer pantyhose, Christine can only think about one thing........SEX!
The Kingdom of Cira's population is on the brink of extinction due to curse unleashed upon the Elfen race. The merely one who is able to aid the Queen of Cira and her people is a sorceress named Lilda. She is Futa from the Futanari tribe and for centuries the Elfen people has discriminated against the Futanari and now they are in need of their sacred acts. The Queen of Cira is ready to do everything, in order to save her people from complete extinction.
Categories: Anime / Hentai
Outstanding set that brings back this stunning tranny that so many fans got in her first scene for us years ago. She is more confident about her potential now then we did a flex scene exploring both sides of her vibrant sexuality. Veteran Marcus help a lot our cute ts feel more comfortable helping her explore her full potential.
This set marks the premiere of this provocative model so attractive and exciting. This stunning brunette just did Yago's day that really enjoy this style of ts. She did a great job seducing our favorite stallion making him extra horny for her total satisfaction. She loved feel deep Yago big cock in her inviting ass in another powerful scene that ll make your day.
This scene ll put in the same bed two very competent veterans marking the actor's return. Its always great have dedicated and professional people in action because make our work less complicated and, why not, add some extra dose of our sinful pepper in the scene. Pablo is great for tease our shemales for two reasons: huge cock and flexible in the scene. It allows ts be very horny with his impressive dick and for the fact let the trannies explore him in all aspects. Ready for another freaking hot hardcore?! Then go get it !!!!